Chris "Chez" Chesak is the President of the Patriots Nation – 'Nati Fan Club in Cincinnati, Ohio. He was selected to join the Patriots Inner Circle at the 2021 NFL Draft in Cleveland for his dedication growing the 'Nati Fan Club after moving to Cincinnati 12 years ago.
I was flabbergasted reading the email. Could this be real? It wasn't a cruel joke, was it? Were the Patriots really inviting me, an ex-pat fan in Cincinnati, to represent the club as one of only 12 fans allowed in the 'Inner Circle' of the NFL Draft? I replied immediately, enthusiastically, YES! I certainly wasn't going to miss such an incredible opportunity.
I was amazed, shocked even at how this all came about. 12 years ago, when I first moved to Cincinnati (our girls were young and my wife's family is from the area), I started a fan club, Patriots Nation 'Nati. I did it out of desperation, trying to find other New Englanders to watch games with, away from the snarky comments and glares of all the haters. At first, it didn't go so well.
For the first three years, I was pretty much me sitting at a bar by myself, hoping that people would show up. But then a few people stuck around, then a few more, then a few more still and they told two friends and they told two friends and, eventually, we topped 1,100 fans in our Facebook group. For big games, we can draw over 100 people to our bar now. When the Pats came to play the Bengals, we had evening events, a catered tailgate and even shot videos to show Pats fans all the cool ways they could spend their weekend in Ohio. Naturally, I was in contact with the good folks that run the Pats fan clubs program over those years, bothering them with 'good ideas' and plenty of suggestions.
All of that then lead to the fateful email. With the draft in Cleveland, a mere three-and-a-half-hour drive away, the Patriots were kind enough to consider inviting the closest, largest local fan club to come take one of the coveted spots.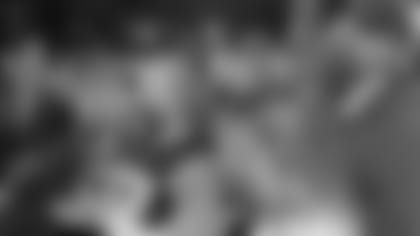 The anticipation built over the weeks as I traded emails with various members of the Patriots event team and even had a video call to show them my vaccination card (everyone in the Inner Circle of the draft needed to be fully vaccinated). Two days before the draft, I bombed up I-71 to Cleveland. I was, ahem, 'On to Cleveland,' as Bill might say.
Immediately as you enter your assigned hotel, you see packs of fans from other NFL teams there. The person in front of you in the check-in line wears a Chargers jacket. Two Chicago fans, one in a fuzzy bear hat, are chatting in the corner. You exchange pleasantries in the elevator with someone decked out in Cardinals gear and trade jabs with a mom and daughter in Bills jackets in the line to be seated for the restaurant. (I told them there was a separate entrance to the restaurant for Bills fans and they'd have to go around to the back. The mom laughed. The twenty-something daughter, who had only known Patriots domination of the AFC East for the majority of her life, did not.)
The first day of the draft, we spent the mornings seeing the sites of Cleveland, including the Rock and Roll Hall of Fame (of course) but also their outstanding art museum and other sites. We were apprehensive though and watched the clock tick down until we were able to go check in.
The NFL Draft is no joke. It's one very well-oiled machine and security is taken extremely seriously. We strolled through the nearly empty convention center to check in at multiple points, then walked through security lines, then were checked in yet again before entering the coveted Inner Circle, where each NFL franchise has a little spot of real estate on the show floor, each one limited to only a dozen, hand-picked fans.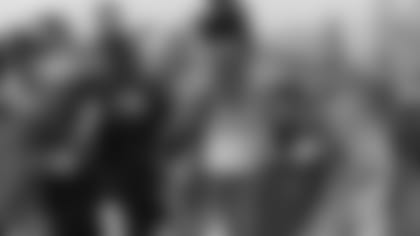 We quickly started to introduce ourselves and get to know each other. It was an impressive group too as the Pats' fan of the year told me that he'd been a season ticket holder for 49 years – 49! That's nearly as old as me. Another couple were from Foxboro as the Pats are gracious enough neighbors that they make sure to reach out to the fans in their hometown to invite two of them to come to the draft. The rest of the group were all cool, fun and, of course, crazy about New England Patriots football. I felt right at home.
I was also happy to see that our group was a little more reserved, I'll say even stoically professional than some of the other fan groups. We were just pretty chill, perhaps in that New England way, while many of the other team's fans were dressed up in truly outlandish outfits, some of which were compilations of virtually every team item they could buy in a store, but others were home-made and hand-crafted out of true passion.
There was the Detroit fan with a motor on his head and another dressed as the Lions' version of Randy Macho Man Savage. The Saints fans were festooned with black and gold umbrellas and pompoms. There was a Bucs fan so covered in gear that I literally couldn't see even one bit of their actual skin – not an ear, not a finger, not even a cheekbone. There was the couple from Seattle in such elaborate, handmade costumes that she even had contacts in that were Seahawk blue.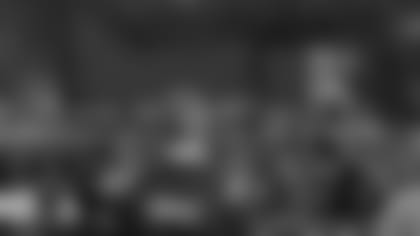 And all of them (and us) went crazy, perhaps a little insane, when their team was on the clock to pick next. When your team is up, no less than three cameramen would race to your section, as a boom microphone lowered down from overhead and the high-flying camera on cables atop the venue raced past. Did you know that it's really rather hard to scream for say, three minutes straight, take a break as they cut to commercial, and then do it all again (and sometimes a third or even fourth time after that)? We did it anyway – and then totally erupted when the Patriots picks were announced.
As I stood amidst the riotous spectacle that is the NFL draft, taking it all in, I realized that you actually can buy your way into a Super Bowl, if you have enough money, but you can't buy your way into the draft. I was immediately overwhelmed by both thanks and contentment that I was able to have this truly once-in-a-lifetime experience – and can't thank the Patriots enough for allowing me that opportunity.
Now let's get to camp, solidify our line up, fire up the 2021 season and LFG!